2013 CMT Music Awards Performances – Full List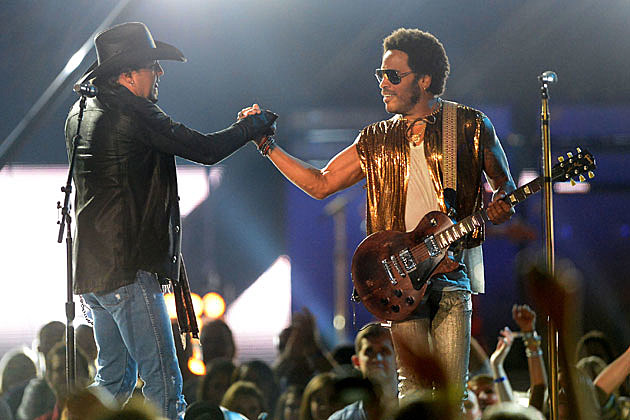 Jason Aldean opened the 2013 CMT Music Awards with a blistering hot performance alongside rocker Lenny Kravitz. The two may have never performed live together before, but their version of 'American Woman' showed no flaws. Kravitz shredded while Aldean took his turn at the classic song's verse and chorus. It was the beginning to a eclectic night of live music.
Miranda Lambert came armed with her latest single, 'Mama's Broken Heart,' before the song's writer Kacey Musgraves took the stage for a subdued version of 'Blowin' Smoke.' Darius Rucker's 'Wagon Wheel' and Hunter Hayes' 'I Want Crazy' were two early highlights.
2013 CMT Music Awards Performances:
Jason Aldean and Lenny Kravitz, 'American Woman'
Miranda Lambert, 'Mama's Broken Heart'
Kacey Musgraves, 'Blowin' Smoke'
Darius Rucker, 'Wagon Wheel'
Hunter Hayes, 'I Want Crazy'
Luke Bryan, 'Crash My Party'
Taylor Swift, 'Red'
Keith Urban, 'Little Bit of Everything'
Lady Antebellum, 'Goodbye Town'
Little Big Town, 'The Chain'
Jason Aldean, 'Night Train'
Carrie Underwood, 'See You Again'
Florida Georgia Line (Feat. Nelly), 'Cruise'
Source:
2013 CMT Music Awards Performances – Full List