Lee Brice, 'Boy' [Listen]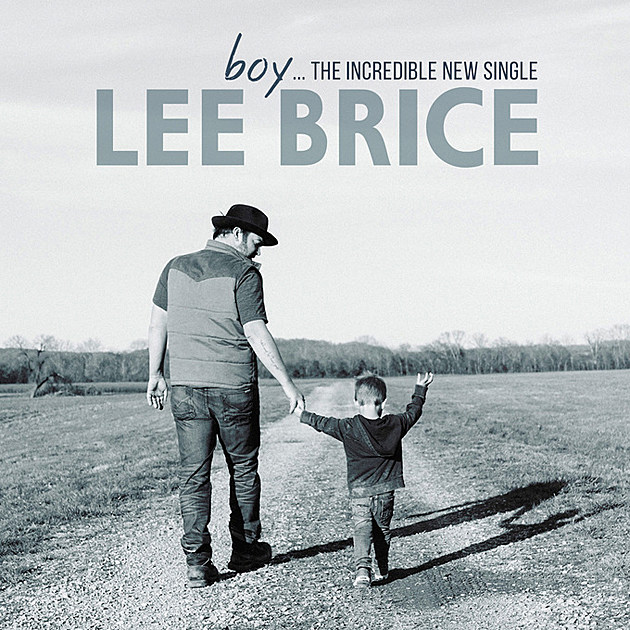 Lee Brice does what he does best on his new single, "Boy," offering his fans a powerful, universal message wrapped in a package that will compel them to sing along.
The country singer-songwriter has always been a musical Everyman, capable of speaking directly to his audience instead of singing at them, and "Boy" is a song that will connect with every father (or any parent) who is watching his children grow up too fast right before his eyes.
The gentle, lilting acoustic bed track of "Boy" serves as a launch pad for a perfectly-drawn, understated vocal from Brice, who muses at how his son is just like him in so many ways, and yet so stubbornly independent.
"You're gonna drive and kiss and throw a punch and grow up way too fast," Brice sings in the chorus. "You're gonna drop the ball, hit the wall and break some hearts like glass / I know you will, 'cause you're a part of me / And a part of you will always be my boy."
"Boy" is an exceptionally well-written track that brings the lyrics full circle without being too cloying, and is no doubt a song that will have every parent looking at old photos and wondering where the time goes.
Did You Know? Brice is a father of two boys, but he and his wife are expecting their first daughter in 2017.
Listen to Lee Brice, "Boy"
Subscribe to 92.9 The Bull on
More About Lee Brice's "Boy"
Subscribe to 92.9 The Bull on
Lee Brice's "Boy" Lyrics:
Boy, you're gonna know it all / You'll think you're ten feet tall / And run like you're bulletproof / And total a car or two / Boy, you're gonna hate this town / Wish you could burn it down / That fire in your eyes is 20 counties wide / But boy, you're gonna love 17 / And boy, you'll do some stupid things
CHORUS:
You're gonna drive and kiss and throw a punch and grow up way too fast / You're gonna drop the ball, hit the wall and break some hearts like glass / I know you will, 'cause you're a part of me / And a part of you will always be a …
Boy, you're gonna be so stubborn / You get that from your mother / I already see it now, you weren't built for backing down / And boy, there'll be a small town night / And you'll fall for her sky-blue eyes / And when she's in your hands, you'll think you're a man and not a boy / She'll make you lose your mind / And boy, she'll be every reason why
REPEAT CHORUS:
You're gonna drive and kiss and throw a punch and grow up way too fast / You're gonna drop the ball, hit the wall and break some hearts like glass / I know you will, 'cause you're a part of me / And a part of you will always be my boy
It's 3AM and I'd do anything to get you back to sleep / And that face will be the same one in the rearview the day I watch you leave
But boy, you're gonna come back home / You're gonna settle down / But you won't feel the way I'm feelin' now / Until you have a boy / He's gonna know it all / He'll think he's ten feet tall / And run like he's bulletproof / And total a car or two"
See the Top 10 Songs of 2017, So Far
Love Emotional Country Songs? You'll Love this Brett Young Performance:
Subscribe to 92.9 The Bull on
Source:
Lee Brice, 'Boy' [Listen]