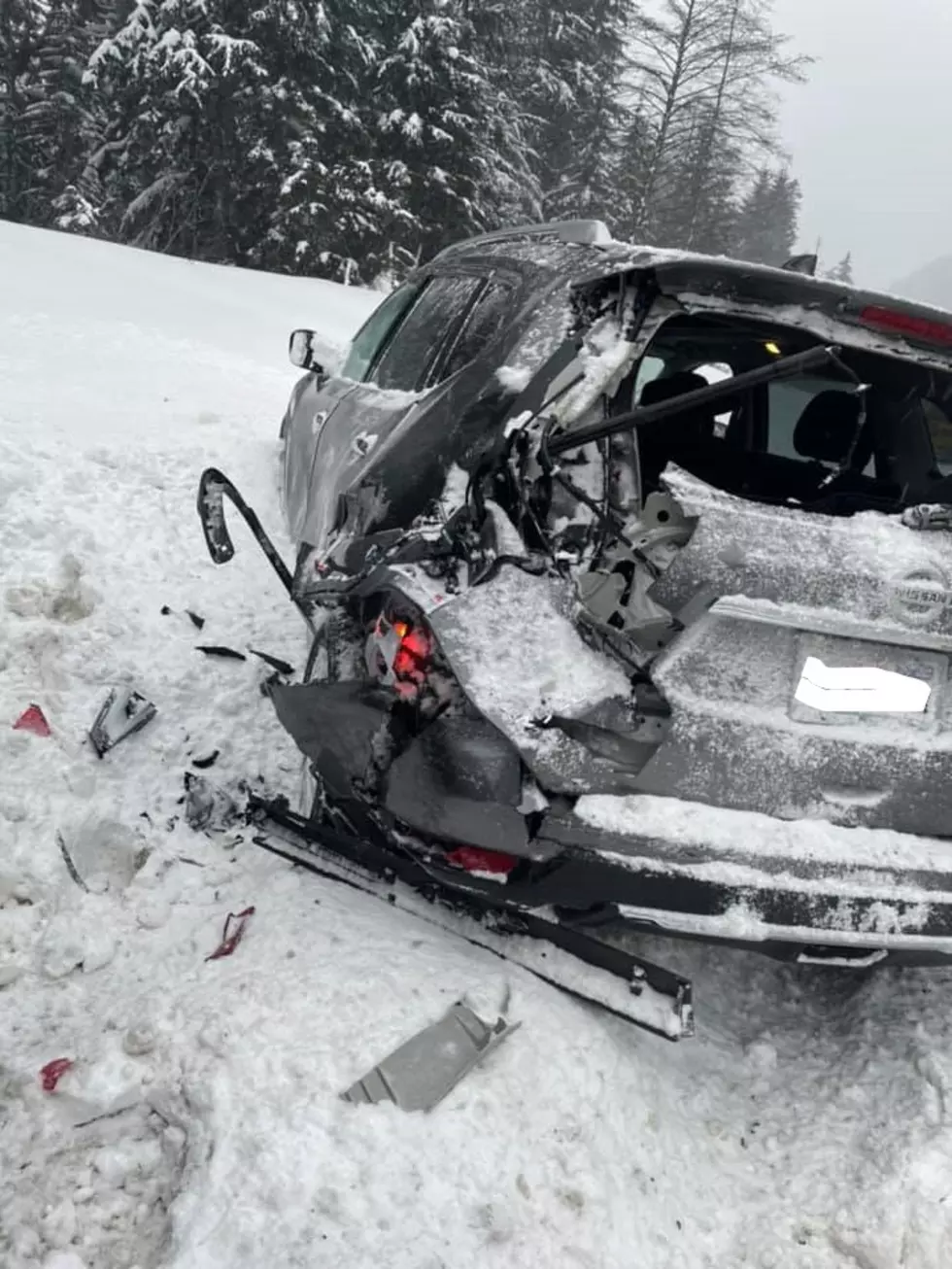 Treacherous Winter Driving Conditions on Snoqualmie Pass
Brian Stephenson
Winter has revealed its more serious side over the past few days. More snow than forecast fell in the Yakima Valley over the weekend and record snowfall occurred elsewhere, including the most snowfall in a 24 hour period in Seattle in over 50 years.
Having lived a few winters in Seattle, I can tell you that more than an inch or two is time for many Emerald City motorists to hit the panic button. Frankly, they should just stay off the road.
The mountain passes were treacherous at best over the weekend, with many accidents reported during a time when only vehicles with chains being allowed to travel across, save for those with all-wheel-drive. It doesn't matter if you're driving a snowmobile, if others driving too fast for the conditions, accidents will and do happen.
This vehicle, the result of just such an accident on Snoqualmie Pass Sunday, could have been avoided if the person following too closely and driving too fast would have been more cautious. Avoiding the trip altogether would have saved both parties from peril.
Snoqualmie Pass was closed for several hours today and as of this writing continues to be closed in both directions. A Winter Weather Advisory is in effect through Tuesday at Noon. Here's what the National Weather Service has to say:
WINTER WEATHER ADVISORY REMAINS IN EFFECT UNTIL 1 PM PST

TUESDAY...

* WHAT...Snow expected. Total accumulations of 9 to 16 inches at the crest and 4 to 9 inches along the east slopes.

* WHERE...In Washington, East Slopes of the Cascades. In Oregon,

East Slopes of the Cascades.

* WHEN...Until 1 PM PST Tuesday.

* IMPACTS...Travel could be very difficult to impossible.

PRECAUTIONARY/PREPAREDNESS ACTIONS...

Slow down and use caution while traveling.
Please stay safe. Check for Road and Pass Conditions 24/7 on our free app.
LOOK: Answers to 30 common COVID-19 vaccine questions
While much is still unknown about the coronavirus and the future, what is known is that the currently available vaccines have gone through all three trial phases and are safe and effective. It will be necessary for as many Americans as possible to be vaccinated in order to finally return to some level of pre-pandemic normalcy, and hopefully these 30 answers provided here will help readers get vaccinated as soon they are able.