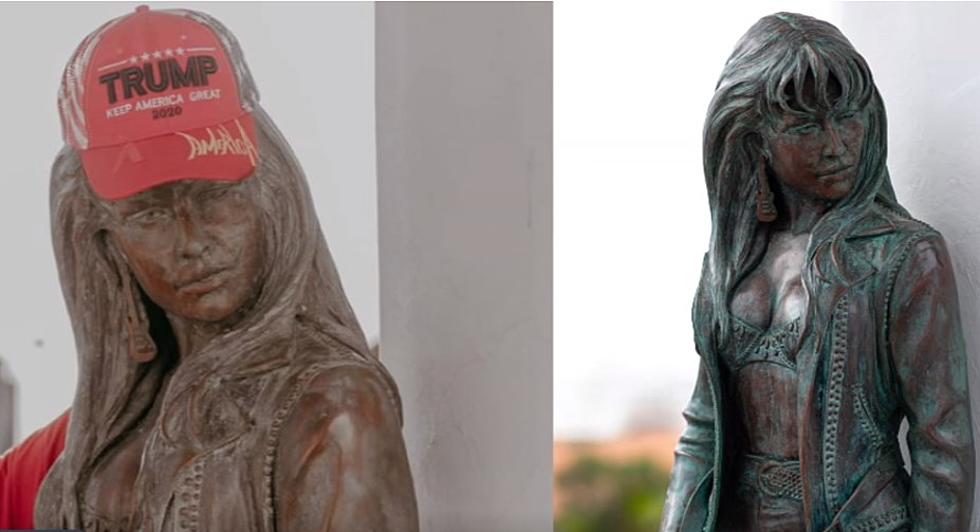 Selena's Family Livid Over Texas 'Bidi, Bidi, Trump, Trump' Rally
via KTRK-TV ABC News 13
Did y'all hear about that dude who is planning a "Bidi, Bidi, Trump, Trump" pop-up rally tour stop at Selena's memorial site in Corpus Christi, Texas? Yes, THAT Selena!

Enter your number to get our free mobile app
The Quintanilla family is LIVID, as they should be. I'll get to that in a second, but first, let's have a moment of homage to Selena.

My love for Selena goes all the way back to when I got my hands on a copy of the 1992 album, Entre a Mi Mundo. That is when a beautiful Tejano star named Selena Quintanilla entered my life on a cassette tape.
I was born and raised in Nashville, Tennessee, which is a few states away from Texas, but they don't call it "Music City" for nothin'. Nashville is a multicultural city for music, so it should come as no surprise that some of my friends loved jamming out to Tejano music, Freestyle, House, and Neo-Soul. I was just a teen, so my friends and I would play that Selena tape over and over and wear it out.
I wore out the cassette cover paper 'til it was smudged, but I just had to memorize every single word of every single song, even though I didn't speak any Spanish at that point. That didn't stop me from belting out "COMO LA FLOR, HOMIE!" at the top of my lungs. I remember that I often pretended I was Selena's backup singer.
My absolute favorite song off that album was "La Carcacha", especially because in the early 90's I had a cheap, beat-up old maroon hoopty two-door Grand Am SE that was constantly breaking down all over town. When it finally stopped working, I ended up getting another used cheap car but it, too, was a hoopty that was always breaking down. Every time I listened to La Carcaha, I was like, "I'M THE ONE WITH THE CARCACHA! SELENA GETS ME!" No dejas de tambalear!
That was fun going down memory lane, now it's time to come crashing back to the reality of living in the year 2020. People are mad, a pandemic has made the entire world come to a halt like a computer reboot, and people are fighting each other over being asked to wear face masks. Oh, and there's this thing with the President of the United States. He seems to be causing quite the stir in daily conversations. His followers sport a red hat with white letters on it spelling out a message that causing some strong reactions.
One of the people rocking that red hat decided to put one on the head of the Selena statue in Corpus Christi. He even took a picture of it and is currently using it to promote his political rally for Donald Trump's campaign for re-election. His name is Joseph "Joe" Perez and he is calling his event the 'Bidi, Bidi, Trump, Trump' Rally. He says he is certain that if Selena were still alive she would be a Trump fan. He even calls his group Trump Fans for Selena.
I surely can't be the only one hearing about this and thinking, "That man had better get his musty paws off Selena's statue!"
Selena's family, The Quintanillas, had their attorney send a Cease and Desist letter to Perez, warning him to stop putting Selena's name in his mouth-literally and photographically.
Perez's rally is set for Saturday, July 11th according to his Facebook invite, and as of today (Thursday, July 9), Perez says his 4 1/2 hour "pop up Trump tour" is still happening at Selena's statue at 2:30 p.m.
We'll have to wait and see how it all turns out and if the Quintanilla family will end up suing him in court.
KEEP READING: See changes enacted since George Floyd's death