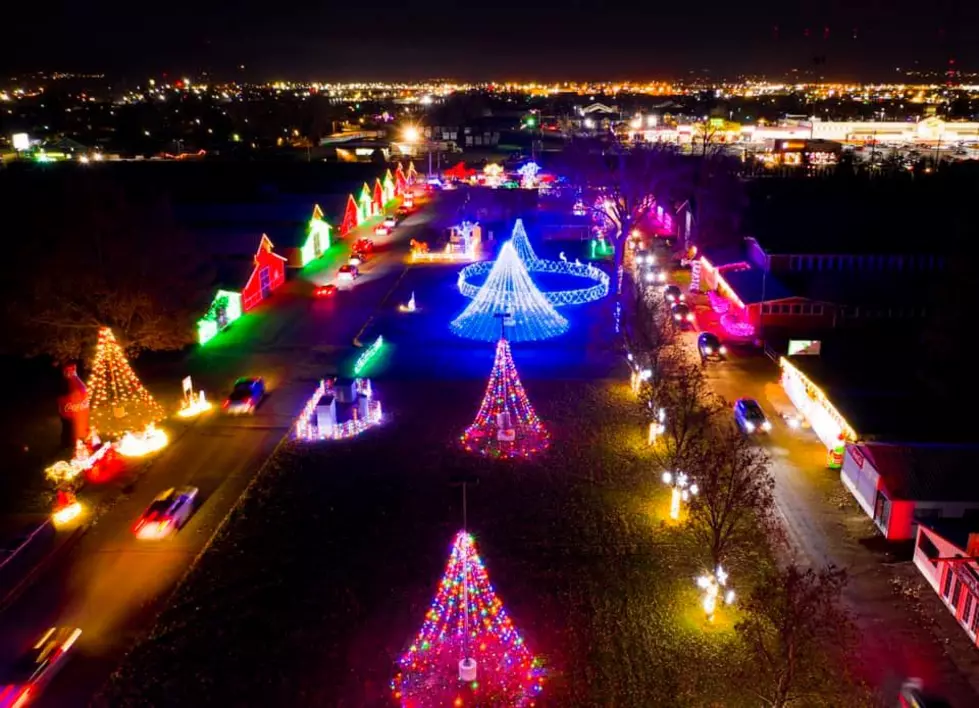 What to Expect at Drive-Thru Holiday Light Fest in Yakima [PHOTO]
Credit: Sean Davido, Clem See, Angel Madrigal, and Jeremiah Urlacher from YV-Tech's drone class
We've all probably been seeing lots of pictures on social media recently posted by friends and family that have gone out to see the Christmas light display at State Fair Park.
If not, and you're thinking about heading down to the Yakima Valley SunDome to check out the fairgrounds 1st annual Drive-Thru Holiday Light Fest, here's what you can possibly expect to see thanks to these dramatic aerial photos.

Described on the State Fair Park website, the display features "12 festive and fun holiday-themed scenes, nearly 20 miles of lights illuminating buildings and trees. Some of the themed scenes include Candyland with a festive gingerbread house, the North Pole with two of Santa's reindeer – Dasher and Comet, a mailbox for letters to Santa, and the big man himself!"
Along with the allure of exterior illumination, concessions will be available (hot dogs, potato chips with garlic aioli, chicken strips/chip basket and Coca-Cola products) as well as other typical holiday treats such as hot cocoa, spiced cider, and kettle corn.
It is a family-friendly event and costs just $10 per carload of spectators ($20 for limos and buses). Group discounts are available - for information, call 509-248-7160 or email mistyc@fairfun.com.
Best hurry though -- the display will only lit through Saturday (December 5th). Hours of operation are from 4:30 p.m. until 9:00 p.m. with gates opening at 4:30 p.m. to begin getting your vehicle in line.
Drive-Thru Holiday Light Fest at SunDome

Photo credit: Sean Davido, Clem See, Angel Madrigal, and Jeremiah Urlacher from YV-Tech's drone class.
Despite the pandemic forcing all of us to do things like we've never done before and there have been some silver linings. This event looks to be one of them!
For updates on the latest goings-on in the Yakima Valley and Central Washington, opt-in for our "Alerts" via our free mobile app!
Enter your number to get our free mobile app
Happy holidays and rock on!  m/ m/
Todd E. Lyons, Esquire
CHECK THEM OUT: 100 years of Christmas toys, gifts and fads