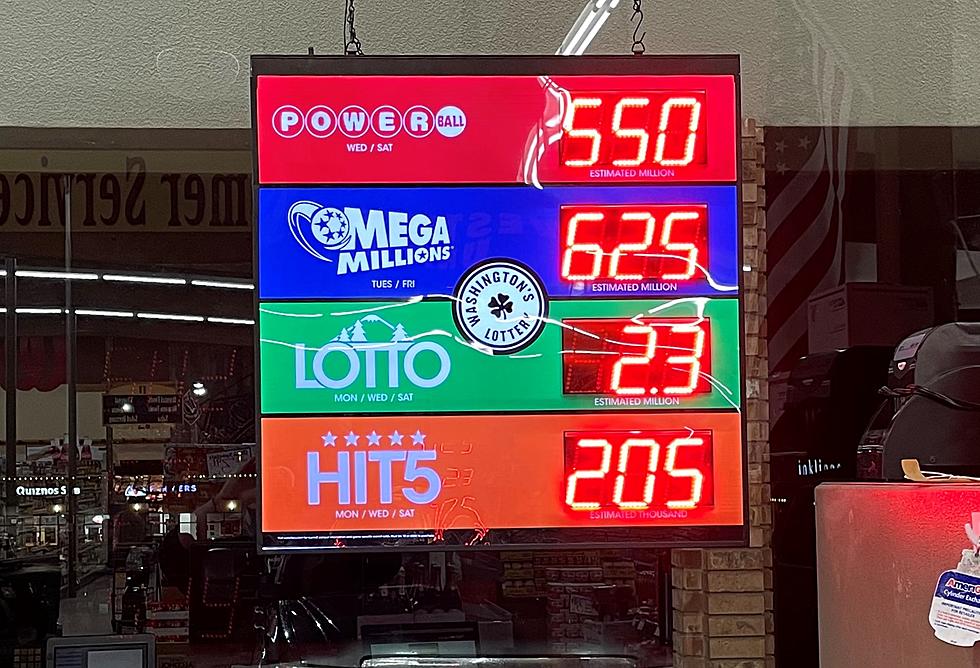 Speculation: The Winning Mega Millions Ticket Sold In Yakima ?
Brian Stephenson
Is this the winning Mega Millions Ticket worth an estimated $625,000,000? Well, I sure hope so, but as I write this, we're a little over an hour from the drawing which is slated for 8:00 PM Pacific Time. This jackpot is definitely considered BIG, although, the record was set back in 2018 when the winner(s) won the $1.5 Billion (with a B) jackpot.
The one-time payout for tonight's jackpot would be an estimated $448.8 Million dollars. That would be plenty to change almost anyone's lifestyle and the lives of their children and grandchildren.
Here's something I discovered today while buying my ticket at Wray's at 56th & Summitview. A fellow dreamer who was standing at the lottery ticket 'vending machine' said right before I made my ticket selection 'Hey, you should pay for that Megaplier - odds are terrible anyway - and you could win a heckuva lot more money'.
My curiosity piqued, I went ahead and bought a ticket with the Megaplier and one without. Then I looked it up when I got home and discovered what the Megaplier is all about. According to walottery.com -
Megaplier. Multiply your winnings with Megaplier. For an extra $1 per play, you can multiply your non-jackpot winnings* 2, 3, 4 or 5 times based on the Megaplier chosen randomly at draw time.
Sounds reasonable to me. However, I'd be fine with a much smaller jackpot, say, $200M. Just think about what you could buy with a jackpot the size of what's available tonight. The most expensive home on the market right now in Yakima, according to Zillow, is just over $1.5 Milion. That just scratches the surface.  Perhaps become a part owner of the Seahawks and shake things up a bit?
The 100 Best Places to Live on the West Coast