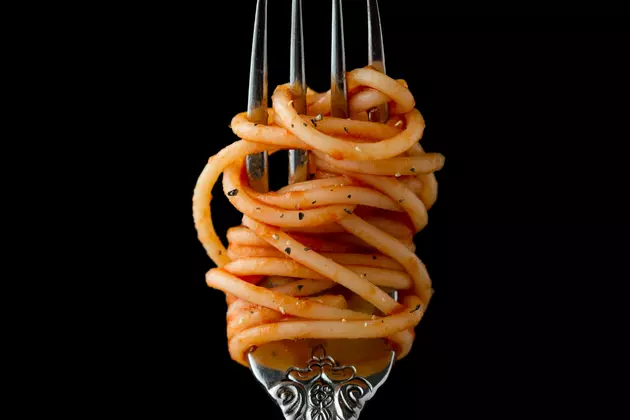 Top 5 Best Places to Get Noodles and Pasta for Dinner in Yakima
Mae Mu on Unsplash
I am one of pasta's biggest and best fans. I live for pasta. I have a separate place in my kitchen pantry to hold all of my 12 different types of pasta. I even bought an embellish ribbon & tape printer from the craft store so that I could put fancy labels on my cute pasta containers. I love watching people make pasta from scratch on TV or in my friends' kitchens. When it comes to ordering pasta and noodles for dinner in local Yakima restaurants, however, I can be rather picky. Sometimes I like tried and true Italian pasta like the Olive Garden, or I might want to have a sit down, homestyle cooked meal in a Yakima restaurant, and sometimes I just want to eat Italian pasta in a place that's kind of fancy!

My favorite place in Yakima to order pasta for dinner closed down a while back. Actually, all three of my favorite places to get pasta keep closing up shop. There was the Italian restaurant on Nob Hill that used to be in the place that's now Tasty Wok. Then there was the Italian restaurant in West Valley by Rosauers that is now Captain Crab. And the latest one that I send a hearty RIP to is Valley Pizza & Pasta on S 1st St.
One night, not too long ago, as I was eating my feelings of lost restaurant grief over a Sampler Platter and garlic sticks from the Olive Garden, I realized there are still some wonderful places left. A few of these Yakima restaurants have already proven to stand the test of time, and they have been right under my nose. I can't believe I forgot about the 5 best places left in town to get some Italian-style pasta for dinner.
5 Best Yakima Dinner Places for Pasta and Noodles Worth the Drive
1.
Open 11:30 a.m. to 7:30 a.m.
5110 Tieton Dr inside Glenwood Square
PASTA DISHES AT ZESTA CUCINA
Dungeness Crab Pappardelle
Served with pecorino cheese, tomatoes, and asparagus
Shrimp Scampi
Served over capellini noodles
Chicken Parmesan
Served on vodka cappellini
Calypso Chicken
Served on fettuccine with alfredo sauce
Fettuccine
Served with a choice of marinara, parmesan, or pesto cream sauce
Cappellini Marinara
Served with option to add meatballs, spicy Italian sausage or both
Vodka Cappellini
Served with spicy pink vodka and choice of sautéed chicken or sautéed prawns
2.
Open Tuesdays thru Saturdays, 3 p.m. to 8 p.m.
2710 Terrace Heights Dr.
PASTA DISHES AT PROVISIONS RESTAURANT AND MARKET
Lindsay's Mac & Cheese: Served with Cavatappi noodles, 4-cheese cream sauce and breadcrumbs.
Chicken Parmesan: Served with roasted garlic pappardelle pasta, marinara sauce, burrata cheese, and lightly breaded chicken.
Sausage & Kale Rigatoni: Served with Rigatoni pasta, kale, sausage, peppers, caramelized onions, parmesan cheese, red chili flakes, and a drizzle of olive oil
@asiliglamcooks @asiliglamcooks no roux baked mac & cheese Love this recipe so much! • 1 lb cavatapi pasta, cooked according to box instructions • 4 tbsp salted butter • 2 cups of heavy cream • 2 cups whole milk • 8 oz of velveta cheese cubed • 4 oz of softened cream cheese, cubed • 2 cups sharp cheddar cheese, hand shredded • 2 cups Monterrey jack cheese, hand shredded • 1/2 cup gruyere cheese, hand shredded • 1/2 cup pepper jack cheese, hand shredded • Salt, pepper, smoked paprika & all purpose seasoning to taste Bake at 375 for 35-40 minutes, broil on high until golden brown Cheese shredder linked in my amazon storefront, link in bio 😉 Comment below if you would try this method 😋 #macandcheeserecipe #macandcheese #bakedmacandcheese #norouxmacandchese #cavatappi #shreddedcheese ♬ original sound - tuckerbudzyn
3.
Open for Dinner until 9 p.m. (Open for dinner until 10 p.m. on Fridays and Saturdays)
3807 River Rd
PASTA DISHES AT POWERHOUSE GRILL
Sirloin Stroganoff
Served with fettucine noodles, steak slices, mushrooms, and a brown sauce with sour cream garnish
Powerhouse Spaghetti
Served with sausage crumbles, mushrooms, black olives and marinara sauce.
Pesto Baked Halibut
Served with spaghetti noodles and spinach
Chicken Fettuccine Alfredo
Served with alfredo sauce
4.
Open 2 p.m. to 9 p.m. (Open til 10 p.m. on Fridays and Saturdays)
3807 W Nob Hill Blvd
PASTA DISHES AT LAST FRONTIER RESTAURANT
Chicken Fettuccine
Served with alfredo sauce, chicken meat, mushrooms, peas, and peppers.
Fettuccine Alfredo
Served without chicken meat.
5.
Closed Tuesdays & Wednesdays. Open 5 p.m. to 9 p.m. Sundays and Mondays. Open 5 p.m. to 10 p.m. Thursdays thru Saturdays.
22 N 1st St
PASTA DISH SERVED AT CRAFTED
Pasta: Served with pappardelle, duck, and a cream sauce
Whether you're craving some pasta to-go or dine-in, at least one of these great restaurants are great options that should work for you.
Got a news tip? Email us here.
TRENDING STORIES:
See the Must-Drive Roads in Every State
25 True Crime Locations: What Do They Look Like Today?
Below, find out where 25 of the most infamous crimes in history took place — and what the locations are used for today. (If they've been left standing.)
50 Most Popular Chain Restaurants in America
YouGov investigated the most popular dining brands in the country, and Stacker compiled the list to give readers context on the findings. Read on to look through America's vast and divergent variety of restaurants—maybe you'll even find a favorite or two.